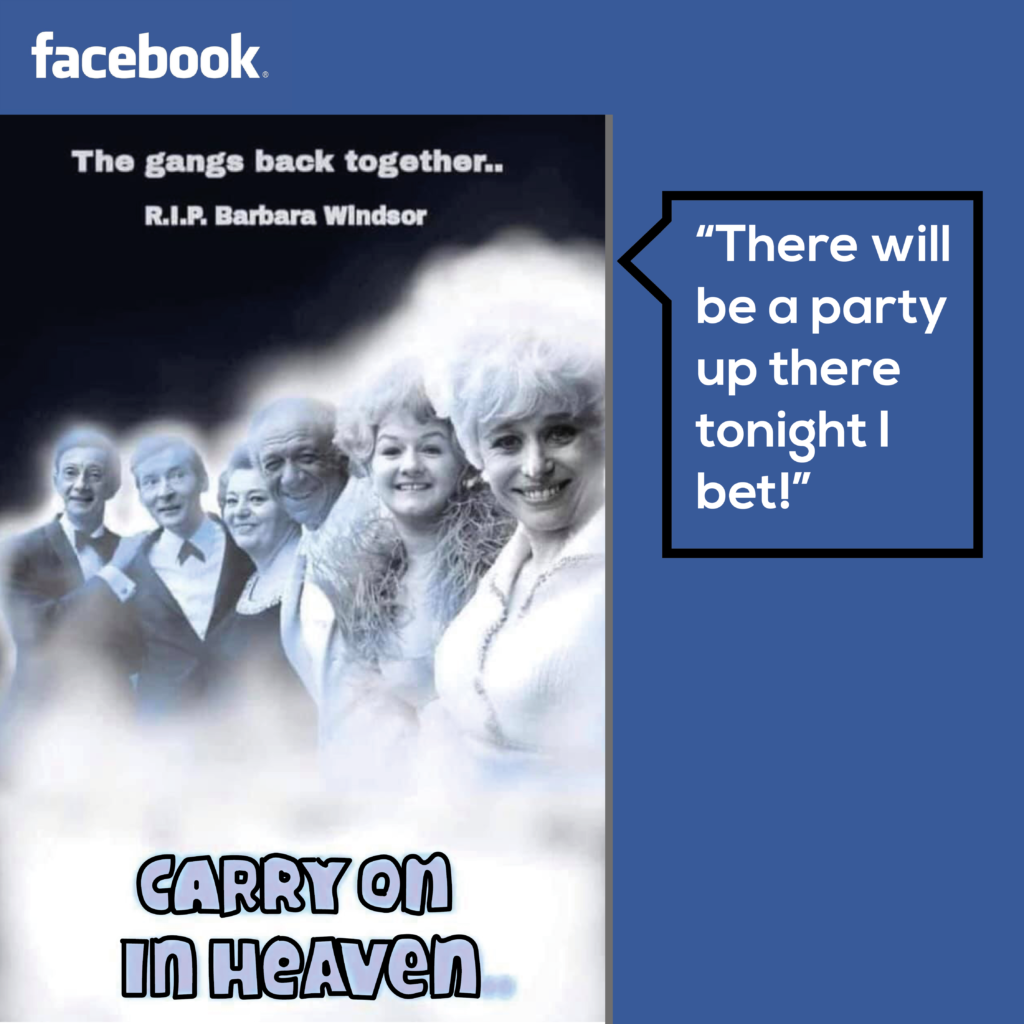 Stephen Mills
I saw this picture and comment on Facebook a few weeks back following the death of Barbara Windsor. It made me pause and consider. I am not in a position to comment on whether the old "Carry On" brigade are in heaven or not – that is outside my remit. God and they alone know the answer to that question. However, what is remarkable is that many people assume there is a "life after death". The number of times I have heard people say of a friend or relative who has died that they are looking down on them from somewhere. Some even go so far as to say that they are their guide in daily life. Why do people who do not enter a church during their life except for christening, weddings and funerals expect the church to carry out their funeral? Why do they speak in terms of an afterlife in this way. The write of Ecclesiastes reminds us that it is God who has put eternity into people's hearts. That is why people instinctively seem to know there is more to life than this life and yearn for their loved ones who have died, to be happy? People also assume that, as in the picture and caption above, there will be a party in the afterlife and re-union of friends and relatives. Secretly, they believe there is a judge in the afterlife who will judge them and their good deeds on earth will outweigh any "bad" actions and he will let them into heaven.

Can this be true?

Jesus has some very telling words for us about the Kingdom of Heaven and the after life. His message when he began preaching and teaching was a message of repentance and faith.
"The time is fulfilled, and the kingdom of God is at hand; repent and believe in the gospel". – Mark 1 vs 15

"Whoever does not honour the Son does not honour the Father who sent him. Truly, truly, I say to you, whoever hears my word and believes him who sent me has eternal life. He does not come into judgment, but has passed from death to life." – John 5 vs 23
Clearly, from the Gospels, it is belief in Jesus that is the key to having an afterlife of true happiness in heaven.
So what does belief in Jesus look like?

"If anyone would come after me, let him deny himself and take up his cross and follow me. For whoever would save his life will lose it, but whoever loses his life for my sake and the gospel's will save it" – Mark 8 34-35.

The Christian life is not an easy life. It is one where Jesus calls us to repentance and service, first to Him and then to others. Following His example means denying self, putting God first, which is hard to do, However, when we respond to Jesus' call to follow Him, he promises the help of the Holy Spirit. The path of the Christian is difficult, but there is the certainty of a life after this one which is in a place of utter perfection, described in the Bible as the new heavens and the new earth.
Are there parties in heaven? Not as we know it! Jesus tells us:

"Just so, I tell you, there is joy before the angels of God over one sinner who repents." Luke 15 vs 10

There is also a wedding party yet to take place when Jesus as the Bridegroom finally has His church – the Bride in heaven with Him. You can read about that in Revelation 19 vs 6-9.
And for those who do not repent, believe and follow Jesus as Lord and Saviour?
Jesus' warnings are clear that everlasting judgement for rebellion against Him is the only just course of action and it is a lonely and very uncomfortable place to be under the wrath of God for eternity.

Definitely no parties.