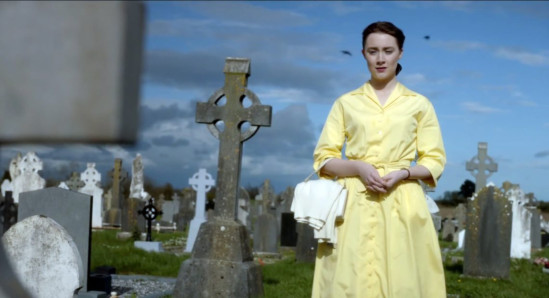 'What we must do is learn to weep before our God. It is to him that our tears must send us'
John Calvin, sermons on The Beatitudes 1560
'You keep track of all my sorrows.
You have collected all my tears in your bottle.
You have recorded each one in your book.'  Psalm 58 vs. 6 (NLT)
In my last article I talked about loss and how it is part of life and the ultimate loss is to lose someone you love through the final separation of death. This a follow on from that post which you can access here
In the excellent film Brooklyn (recently shown on ITV1 Sunday 18th March), which is set in the 1950's, the main character Eilis, a young girl, decides to leave her close community in Ireland and head to the US as a migrant to seek work and a new life in Brooklyn, New York. It all seems to be going well with the life there of colour and excitement in a big city until she hears of the sudden death of her sister back home in Enniscorthy, County Wexford. She returns, but too late for her sister's funeral and is heartbroken with what she finds there.
As she stands at her sister's grave it seems for Eilis that all the hope and optimism of her new life in Brooklyn is cancelled out by the unexpected and untimely death of her sister. She talks to her sister at the graveside about her life in New York then the tears come. 'I wish you were still here, I wish things were different.'
Although writers such as the popular author and frequent Radio 4 guest Stephen Pinker  like to suggest that life on this planet and the human race in general is getting better with more democracies, less wars than fifty years ago, they can't really argue with the statistic that 1 in 1 die. Whether it is Stephen Hawking, Ken Dodd or Bruce Forsyth the lives of the  the most energetic and intelligent fall, and snuffed out they return to dust, soon forgotten.
Having recently attended a non-Christian funeral I saw first hand once again the almost universal feeling of loss and pain when someone we know and love dies dies. 'How dare death invade our happy lives, it shouldn't be'. Yes, there can be closure and acceptance but there is still the feeling death has robbed them. Death does indeed come as an intruder, uninvited, not bargained for.
Does the Bible speak into this aching sense of loss? Does the believer have anything to say to the grieving person? Is there anything beyond the cold, clinical atmosphere of a modern crematorium and the idea that we should just accept things and get on with life.
In his sermons on the Beatitudes preached in 1560 Calvin attacks the stoicism of his age. 'We are not, after all, without feelings, like those madmen … who expect us to remain as immovable as an anvil or a rock. Such a thing goes against our nature'
When preaching on 'Blessed are those who mourn ……. ' he says ' ……What I mean is that when unbelievers weep, the tears they shed are less than real. They lament, sure enough and repeatedly cry 'Alas! Alas!' but they do no more than howl. What we must do is learn to weep before our God. It is to him that our tears must send us. When we do that, we will experience the truth of David's words 'Lord, you have put my tears in a bottle' (Psalm 58). Just as someone looks after precious perfume or a costly ointment, so, David says, God stores up our tears. Of course tears fall to the ground or else we wipe them away with our hand. Nevertheless, when we weep before God, not one tear will be lost: God will carefully preserve them all.'
What a tender thought, that cuts through the modern and  impersonal stages of grief and from a man who knew personally all about the pain of bereavement, losing all his children and his wife to death at an early age.
It kind of all goes back to where I finished my last article with Caterina von Schlegel.
Be still, my soul: the Lord is on your side;
bear patiently the weight of grief or pain;
leave to your God to order and provide;
through every change he faithful will remain.
(the post was written by Stephen Nicholls)