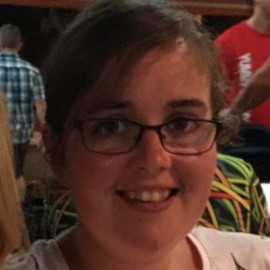 Since I started attending Christ Church, I have been learning more and more about the word of God.
Before this, I had not really taken it seriously and hadn't understood how important it is for becoming and living as a Christian.
Looking back on my life I think it would be fair to say that it has been hard and challenging growing up in difficult family circumstances. It has been difficult for me to have good relationships with my family. There has been a lot of rejection in my life and a lot of messy family situations where I haven't known what to do.
In January 2019 I was sat reading Luke 15 with Sarah (McQuaker) one of the Elder's wives, when we were reading about the Lost Son (Prodigal Son) and I realised how lost I was feeling myself. I have always experienced anxiety but in recent years it has been a lot worse.
Sarah was great at answering questions I had, and I was left pondering on the story of the lost son and realised I didn't want to be a lost daughter. I wanted a relationship with God the Father and recognised in order to do this I needed to pray for his forgiveness and repent of my sins. I knew I needed God's help and love to help me get through the difficulties of life.
I prayed to God for his forgiveness and instantly felt at peace. I managed to sleep really well that night which is really something for me!
I thought if I became a Christian, life would suddenly become easy and even 'fantastic', but I have realised this isn't the case. However, knowing God is with me in life's challenges is comforting even when there is deep pain involved.
In July of this year I was not in a good place emotionally and would call it a 'dark time' I wasn't sure how I was going to escape. But by having a relationship with God and trusting in him he led me to a better place, I would not have reached without him.
Remembering Christ died for us so we can have eternal life, and without this we would be dead in our sins is such an important message to share as well as remember. I also know from reading John 3 v 30 that 'He must become greater; I must become less' that I have to allow God to lead me and that he has a plan for my life.