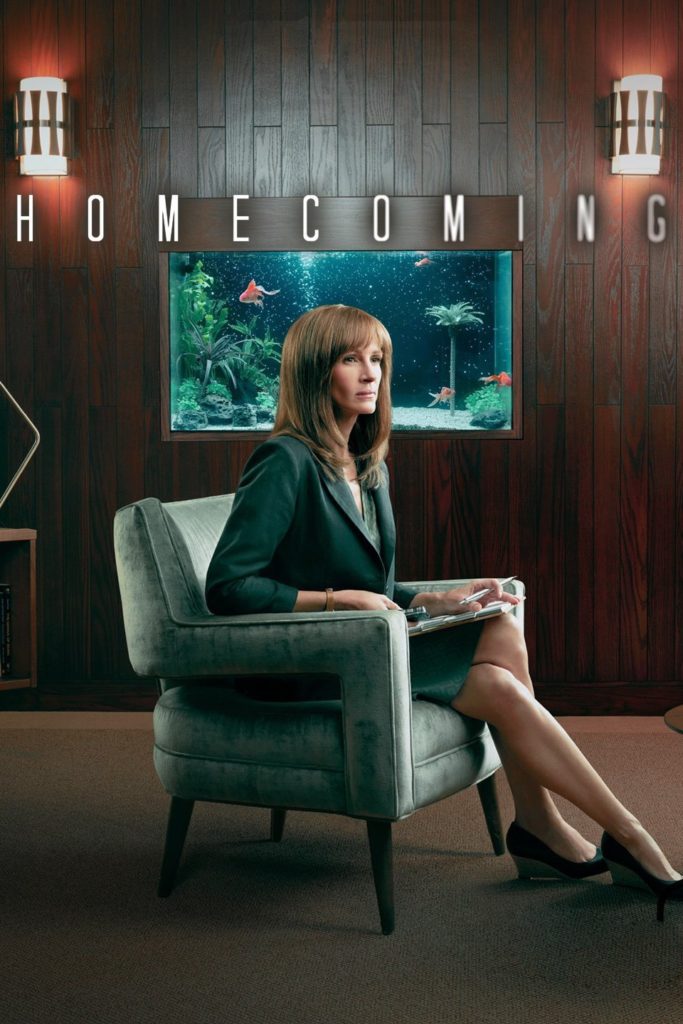 {Spoiler Alert}
Homecoming is a new TV drama series of ten half-hour episodes, starring Julia Roberts.
Heidi Bergman was a caseworker at Homecoming, a facility helping war veterans transition back into civilian life. Years later she has started a new life, living with her mother and working as a waitress, when a Department of Defense auditor questions why she left the Homecoming facility. Heidi quickly discovers that there is a whole other story behind the one she has been telling herself.
It is an exquisitely crafted plot, with well-paced dialogue; the suspense and intrigue builds through telling the story by moving between past and present. The camera work constantly catches the attention with fascinating angles, views, multiple shots and the use of different screen sizes to add to the entertainment and the sense of being immersed in the story.
To keep it simple (and here comes the spoiler) the basic plot is that this rehabilitation centre, which ostensibly provides counselling to re-integrate soldiers back into civilian life is actually is a test-bed for a drug that erases painful memories so that the personnel can be shipped back to active duty.
It got me thinking about the gospel and about heaven.
God, in the gospel, says he will remember our sins no more (Hebrews 8:12). In a judicial sense, the painful memory of our sin has been removed; it will not be counted against us. It will not be recounted by witnesses in the courts of heaven, but not because of a drug that has erased the memory, but by the death of a substitute who removes the pain, the sting from those memories, and who takes away the guilt of those past actions.
In Homecoming, it seems that techniques could be used so patients might remember again the things they had forgotten. For God, however, nothing will trigger the memory and reverse the process. He really has buried our sins deeper than the deepest sea (Micah 7:19).
And about heaven, I do not think we will have some kind of wonder drug that erases all the painful memories of life but rather those memories will be seen in the light of the Cross. When we remember former sins and sadness in our heavenly home, it will only be to cause us to rejoice even more at the grace we have been shown.