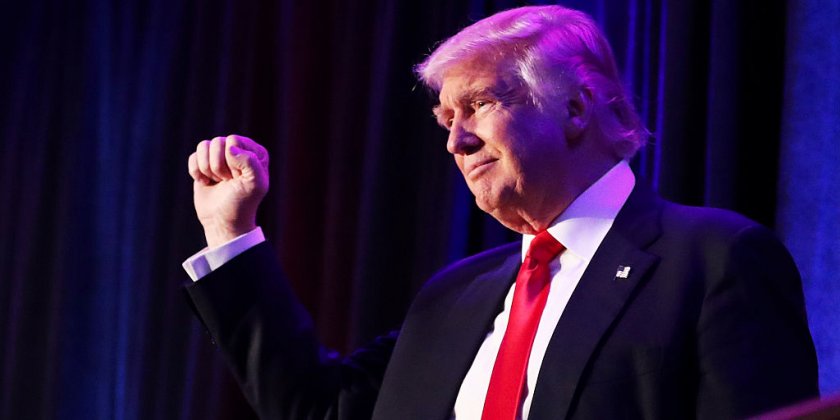 Always expect the unexpected!
Donald Trump has won. What many people considered a joke has become serious. The reality TV star, like one of his contestants has landed a top job in the real world.
A day for Respectful Reflection
For many people this is surprising, shocking and deeply disturbing. We need to respect those feelings and speak words of truth to one another.
For some people (about half of American voters I guess), this is a day of celebration and hope. We need to also respect those Christians who voted for Trump. Maybe they did it with great relish or perhaps they had to "hold their noses." Maybe it was just party allegiance they couldn't break or possibly they believed that Trump will have a less socially liberal agenda which will be better for Christians.
It's certainly a day to think carefully and speak wisely. Not a day for wringing our hands or for name calling or patronising statements about "stupid Americans" who are clearly not as wise as us.
The Doctrine of Last Resort
What I have found slightly curious is how many Christians are rushing to re-assure themselves and everyone else about the sovereignty of God as though it wasn't necessary if the vote went the other way. I understand the sentiment but there is a danger that God's supreme rule becomes the doctrine of last resort when all else seems to be crumbling. A truth we don't cling to on the good days.
Yes, it is a great comfort to know God is in charge. Sometimes we need to be shocked into remembering it. Like the serious medical diagnosis improves our prayer life, God can shake our trees to help us to hold on tight but let's not just trust in the sovereignty of God when things seem comfortable.
Rather than using this spectacular doctrine as a comfort blanket we should be trusting and re-affirming the sovereignty of God when we seem to be in control and when things seems to be going our way. He is always in charge – we just forget about it sometimes.
A Time for Prayer
Let's pray that all these uncertainties lead people to the king of kings. You don't need to be a political expert to see that there are some similarities with the Brexit vote. Part of the momentum for this victory is that many people are disillusioned with the banal trivia and hypocrisy of conventional politics and the political establishment. The death of hope in the politics to save our world is a great opportunity for the gospel of Jesus Christ to be proclaimed – he is the saviour who doesn't disappoint.
The Free Church of Scotland has called for a day of prayer on 30 November to "seek a spiritual revival in our church; and a spiritual awakening in our land." You may wish to join with our brothers and sisters in this or do something similar to pray for wise leadership and for the name of Jesus to be proclaimed and honoured.  He is the president we all need.