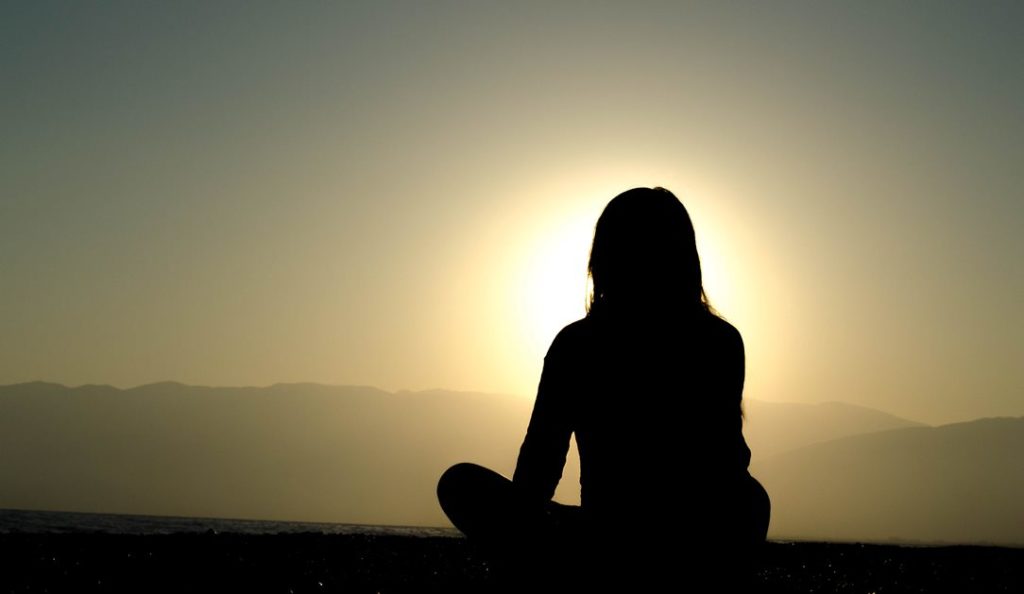 Blessed is the one who does not walk in step with the wicked
or stand in the way that sinners take
or sit in the company of mockers,
but whose delight is in the law of the Lord,
and who meditates on his law day and night.
That person is like a tree planted by streams of water,
which yields its fruit in season and whose leaf does not wither—
whatever they do prospers.
(Psalm 1:1-3)
Many verses in the Bible talk about meditation, and the practice and tradition of meditation has long been a part of Christian history. Sadly these days it has become more of a lost art. When we think of meditation we are more accustomed with the type associated with Hinduism and mindfulness – popular go-to's for mental health problems and stress related illness. They involve calming the mind by emptying it.
Quite rightly, as Christians we should be wary of this type of meditation. We should be wary of anything, apart from Christ, that promises to bring us lasting peace. So what does biblical meditation look like? The Puritans made teaching on scriptural meditation a priority. These days our pace of life has become so fast that the practice has been pushed out, no longer a central part of our spiritual lives. Maybe we can use this time in lockdown as a glorious opportunity to rediscover it?
So what is biblical meditation and how should we practice it? It is clearly more than just reading. Some of the dictionary definitions of meditation include; the act of giving your attention to only one thing at a time, serious thought or study of one thing, and the act of thinking about something very carefully and deeply for a long time. It is said that during biblical meditation, the mind descends into the heart. As a function it sits in between bible reading and prayer and is unique in that it not only engages our cognitive thinking, but it also fully engages our emotions. The purpose of eastern meditation is to empty the mind, but in biblical meditation we fill the mind with God's truth with the intention of settling it on our hearts. God's word then strengthens us daily against the pulls of the world, the darkness in our own hearts, and the devils schemes.
"Meditation pulls the latch of the truth and looks into every closet, every cupboard, and every angle of it." – William Fenner
Let's use this time to slow down in our bible reading. If normally you read lightly and skim the surface of the text, use your extra time to meditate on it instead. Think of all the treasures we are regularly missing out on by not digging deeper!
When John Piper preached through Romans at his church in Minneapolis, his sermon series lasted the course of 8 whole years. He spent 6 sermons on just one verse (Romans 5 v 5). He talks of taking passages like a wet rag and twisting and twisting until every single juicy drop has fallen out. How easy it is to meditate on our problems, turning them over and over in our minds and looking at them from different angles. David Saxton wrote that "what a person habitually chooses to daily meditate on reveals his true spiritual condition". If only we spent the same amount of time squeezing every last drop of goodness out of Bible verses rather that that of our worldly circumstances. Certainly the longer we stare at our problems the bigger they grow. In contrast, the more we meditate on scripture the bigger our view of God gets, and we are led to worship.
"As the bee that dwells and abides on the flower, to suck out all the sweetness that is in the flower, so, to, meditate on God and Christ, to suck out all the sweetness we can in the things we meditate on." – Edmund Calamy
Practical steps
1. Read a passage from the bible and consider it closely. What do those particular verses remind you of? What image comes to mind? Are there other verses in the bible that remind you of what you are reading? How can these verses apply to your current situation? Is there a particular image that comes into your mind when you read these verses? How do these verses make you feel?
2. Soliloquy, or self-talk. The Psalmists often encouraged their own hearts by talking to themselves!
Why am I discouraged? Why is my heart so sad? I will put my hope in God! (Psalm 42)
Let all that I am praise the Lord; may I never forget the good things he does for me. (Psalm 103)
3. Prayer. Pour your heart out to the Lord, in context of what you have just been meditating on, and then some.
4. Try to be alone when possible, be unhurried, be silent, persistent and regular. Start out with one paragraph per 15 mins and aim for 30 mins total to begin with. When more practiced, aim for an hour. Use a stopwatch so that you don't have to check the time. Thomas Watson said that "without meditation the truth of God will not stay with us; the heart is hard, and the memory slippery… meditation imprints and fastens a truth in the mind." May this lockdown be the means to bring many new truths upon our hearts, as we have time to give God's word more space in our lives.
"It is not he that reads most, but he who meditates most, that will prove the choicest, sweetest, wisest, and strongest Christian." – Thomas Brooks.