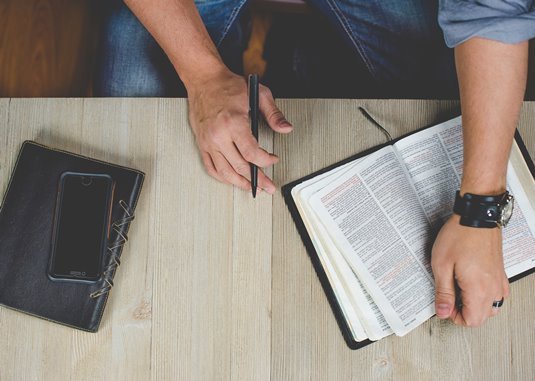 A series of separate training tracks designed to help equip us in knowing and applying the Bible, delivered over four Tuesdays starting on 10th September 2019 at 7.45pm.
Instruments in a Redeemer's hand (Mark Ventham)
This is for those who have already done the Real Change course or the How People Change course. In those, we bagan to see how the gospel changes our hearts, tackled our sin problems and our responses to the 'heat' of life. It helped us to put off sinful, thorny, responses, and put on right gospel fruit instead. BUT – how do I help someone else to change, tackle their heart issues, and respond with fruit in the midst of their 'heat'? Over four weeks we will begin to be equipped to help and care for others. We will think through how we get to know people and how then lovingly to speak truth tot them, that they might begin to respond with fruit rather than thorns. Due to the nature of the material, this is only for those who have already done the Real Change or How People Change course.
Walking before the Lord – practising a Christ-centred spirituality (Jon Hobbs)
Christians talk much of having a relationship with God, but can often be uncertain as to what that looks like in the day to day. But this relationship is essential if we are to stand firm and bear fruit in the face of so much that can hinder us. More than that, it is essential if we are going to display an authentic spirituality to those around us who are spiritually thirsty. We'll be considering what this looks like over the four evenings: 1. Life as God's children, 2. Walking before the Lord, 3. Engaging with God in word and prayer, 4. Experiencing God in suffering and contentment.
Disciple-making parenting (Graham Nicholls)
Based on a book by Chap Bettis, this is a 4-week parenting course with a difference! Less about discipline principles and techniques, and more of a focus on raising children to be disciples of Christ, for "God's desire for your family is to be a Trinity-displaying, God-glorifying, disciple-making unit." As parents, it's easy to assume that if we give our children the right ingredients, keep out the wrong ingredients, and put them in the right environment for the right amount of time, we are guaranteed a certain result. There are no guarantees, but God can and does use means. We discipline our children in faith, not so that they will make us happy, but so that they will serve Christ as adults. We educate them, not so that they can have a good job, but to develop them to be the best follower of Jesus they can be. We work hard to prepare them, not for graduation day, but for the Judgement Day!
Learning to love Leviticus (Nick McQuaker)
Leviticus is a vital part of God's word. Out of the 39 books of the Old Testament, it is the 6th most quoted in the New. And yet, Leviticus is a Bible book that many Christians find hard-going. The detailed descriptions and regulations seem dull and repetitive. Many of its rituals seem strange and irrelevant, maybe offensive even. Your own well-intentioned attempts to study Leviticus may have yielded little spiritual profit. If that has been your experience, or you have never even read the book, come and discover the good news of Leviticus as it points us unerringly to Christ. In particular, we will focus on the ritual aspects of the book, the sacrifices, ceremonies, food laws and festivals. We will see their rich fulfilment in Christ and learn what they have to teach us about living the Christian life as God's holy people.
Please click here to read the different track options, and to choose which one you'd like to attend!