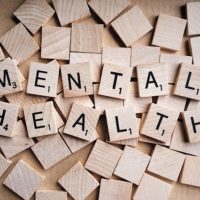 TalkBack – Walking alongside the mentally ill
To listen to Stephen Nicholls leading the TalkBack session at Christ Church on Sunday evening 25th June 2017 use the player below.
Or click here to listen in your own player or save a copy
These were the questions used.
Made in the Image of God – Genesis 1, 3
Passage to consider: Genesis 1 vs. 27 – 28, 3 vs. 17 – 19
'We are clever apes who have got ourselves into a spot of bother.' (Andrew
Marr)
'You are a person made in the image of God, your consciousness and sense
of self flow from the fact that you were created and formed by an infinite but
personal God. He created you to be relational and to know and love him.'
1 How does the Biblical view of how and why we are created enrich our
approach to mental illness?
2. Don Carson describes suffering as 'the effluent of the fall' in other words
when we suffer mentally or physically it is because of the entrance of sin into
the world. How does this colour or change our view of mental illness?
3. In the light of creation, fall and redemption what expectations should we
have about 'recovery' from a serious mental illness?
Fearfully and Wonderfully Made – Psalm 139
Passage to consider: Psalm 139 vs. 1 – 16
What type of knowledge does God have of us? (vs. 1 – 10)
How does God's knowledge of us and them help us when trying to reach out
to someone who is struggling with a mental illness?
3. How could a knowledge that God created us 'fearfully and wonderfully' help
someone who is struggling with the guilt and shame and sense of
worthlessness that often go along with mental illness?
4. How could this Psalm provide comfort to someone struggling with severe
and enduring mental illness?
Psalm 55 – Comfort for the Weary
Passage to consider: Psalm 55 vs. 1 – 8 and 22 – 23
Given that emotions like fear, guilt and shame are often heightened in mental
illness how could this Psalm provide comfort?
2. How could a felt experience of weakness in mental illness be used to make
our prayer life more real?
3. David concludes the psalm by expressing trust. 'Cast your cares on the
Lord and he will sustain you'. How could we encourage someone going
through terrible mental turmoil using David's experience?
The God of all Comfort
2 Corinthians 1 vs. 3  to 7 – The God of all Comfort
Note: the word translated comfort is the Greek word 'pareklesis' which means
to 'draw alongside'
Why would God cause us to go through a tough experience of mental
illness/affliction even though we have prayed for deliverance?
2. How can a bad experience that we have been through enable us to 'draw
alongside' others and help them. How does the comfort the gospel brings
help us do this?
3. The Message Bible translates vs. 3 -5
'He comes alongside us when we go through hard times, and before you
know it, he brings us alongside someone else who is going through hard
times so that we can be there for that person just as God was there for us.
We have plenty of hard times that come from following the Messiah, but no
more so than the good times of his healing comfort—we get a full measure of
that, too.'
How can the Christian's experience of going through sufferings but being
comforted by the gospel play in to how we relate and share with others in the
body of Christ?