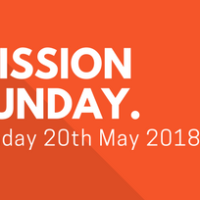 Mission Sunday – Sunday 20th May 2018
This Sunday in May is being dedicated as Mission Sunday. It's a day when we encourage one another to focus on world mission and to make a gift above and beyond our normal giving to those in need around the world.
We'll start the day by making overseas work the focus of our Sunday morning service with guest speaker Gareth Bolton, who has worked with Operation Mobilisation (OM) for over 25 years.
As well as sharing during our morning service, Gareth will also be hosting a Q&A session after we enjoy lunch and fellowship together.
Where and when?
10:30am – Morning service at Warden Park Primary Academy
Giving to those in need around the world
Throughout the day we're encouraging each other to think about the world around us and how we might be able to respond financially to the needs we see.
The focus of our giving will be towards two areas:
1. Part of our giving will go to AMEN, a trust set up by Gareth and his wife Malou, which is a conduit for channelling resources to many overseas Christians working to make a difference in their own countries. Find out more by visiting: amentrust.co.uk.
2. We are also raising funds to support OM's mercy relief fund, which seeks to relieve the suffering of families all round the world including the Rohingya in Bangladesh, and those displaced by conflict in the Near East. For more information about OM and their UK relief fund visit www.uk.om.org/mercy
Here's a video that explains the Mercy Appeal.
How to give
Cash or cheque (payable to Christ Church Haywards Heath) in an envelope marked 'Gift Day – Mission Sunday'. Include your name if you want Gift Aid to apply.
Bank transfer to the following account: Account number: 31537016 | Sort code: 40-23-27