Mayflower Housegroup
We run a Housegroup for resisdents of Mayflower Court in Haywards Heath at 2pm on alternate Tuesday afternoons. Residents are warmly invited to join the group (which meets on their own premises) to study God's Word and reflect on what it says to us.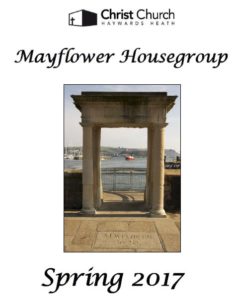 You are warmly invited to join us in the lounge at Mayflower Court on alternate Tuesday afternoons to study God's Word and reflect on what He is saying to us. Our meetings commence at 2pm and we
conclude our time together with light refreshments. This term we will be having five studies on the book of James, after we have completed Acts. Then we will turn to the gospel of Luke.
James 1 verse 2:
Consider it pure joy, my brothers, whenever you face trials of many kinds…
James 2 verse 8:
If you really keep the royal law found in Scripture, "Love your neighbour as yourself," you are doing right.
Spring Term Dates:
January
Tuesday 17th and 31st
February
Tuesday 14th and 28th
March
Tuesday 14th and 28th
April
Tuesday 11th
End of Term Lunch:
Wednesday 12th April
12:30 – 2pm at the Church of the Presentation Hall.
Saltworks Friends Coffee Morning
Friday 10 February, 10:30am
Saltworks Friends Tea Party
Saturday 18 March, 3 to 5pm