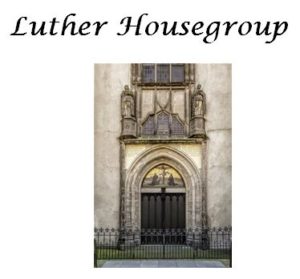 We hold the Luther Housegroup on Mondays at the Christ Church building, starting at 1.45pm.
You are warmly invited to join us on alternate Monday afternoons to study God's Word and reflect on what He is saying to us.
Our meetings commence at 1.45pm and we conclude our time together with light refreshments.
This term we continue to study the Gospel of Luke. He was a doctor and he "carefully investigated everything from the beginning" – about Jesus.
Please let Roger Oliver or John Rix know if you need transport to and from the church building.  Transport is always available.
Luke 4 verses 42 – 44
"At daybreak Jesus went out to a solitary place. The people were looking for him and when they came to where he was, they tried to keep him from leaving them. But he said, 'I must preach the good news of the kingdom of God to the other towns also, because that is why I was sent.' And he kept on preaching in the synagogues of Judea."
Autumn 2017 Term Dates
September
Monday 4th, 18th
October
Monday 2nd, 16th, 30th
November
Monday 13th, 27th
December
Monday 11th
End of Term Lunch:
Monday 18th December 12:30 – 2pm in the Triple Room at Christ Church.
Saltworks Friends events
Coffee morning 17th November
Tea parties 30th September and 9th December, at Christ Church.