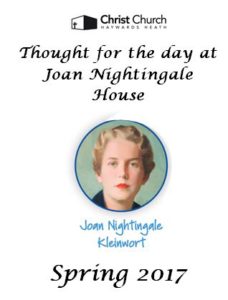 Bible Study Group at Joan Nightingale House
We run a Housegroup for resisdents of Joan Nightingale House in Haywards Heath at 10.20am on alternate Thursday mornings. Residents are warmly invited to join the group (which meets on their own premises) to study God's Word and reflect on what it says to us.
Thought for the day
You are warmly invited to join us on alternate Thursday mornings as we share a brief 'thought for the day', considering various topics such as well-known Bible stories, birds as our teachers, or daily devotions from gifted writers of the past.
This will be a gentle conversation type of meeting which we will begin with some light refreshments and good conversation.
"Man does not live on bread alone but on every word that comes from the mouth of God."
Deuteronomy 8 verse 3, Matthew 4 verse 4
"Give us today our daily bread." Matthew 6 verse 11.
Spring Term Dates:
January
Thursday 26th
February
Thursday 2nd and 16th
March
Thursday 2nd, 16th and 30th
December
Thursday 8th
All the above meetings commence
at 10:20am in the lounge at Joan Nightingale House.
Saltworkz Friends Events
Coffee Morning – Friday 10th February, 10:30am – 12noon
Tea Party – Saturday 18th April, 3pm – 5pm
Both taking place at Christ Church.