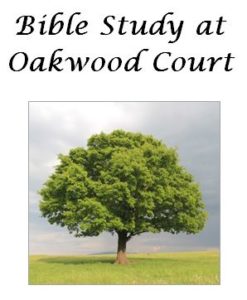 Bible Study Group at Oakwood Court Care Home
We run a Bible Study group for residents of Oakwood Court Care Home in Haywards Heath at 2pm twice a month. Residents are warmly invited to join the group (which meets on their own premises) to study God's Word and reflect on what it says to us.
This term we continue to study the Gospel of Luke. He was a doctor and he "carefully investigated everything from the beginning" – about Jesus.
We conclude our time together with some light refreshments and good conversation.
Luke 1 verses 1 to 4
One day Jesus was praying in a certain place. When he finished, one of his disciples said to him, "Lord, teach us to pray, just as John taught his disciples." He said to them, "When you pray, say: " 'Father, hallowed be your name,
your kingdom come.
Give us each day our daily bread.
Forgive us our sins, for we also forgive everyone who sins against us.
And lead us not into temptation.' "
January
Tuesday 8th and 22nd
February
Tuesday 5th and 19th
March
Tuesday 5th and 19th
April
Tuesday 2nd
All the above meetings commence
at 2pm in the Quiet Room.
Easter service – Friday 12th April at 3pm in the lounge.