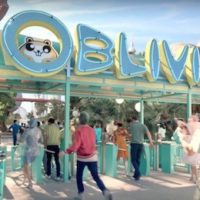 In her new video 'Chained to the Rhythm' Katy Perry is in a theme park called Oblivia, seduced by the excitement and distractions of the rides singing lyrics like:
Turn it up, it's your favourite song
Dance, dance, dance to the distortion
Turn it up, keep it on repeat
Stumbling around like a wasted zombie
Yeah, we think we're free
Drink, this one is on me
We're all chained to the rhythm
To the rhythm to the rhythm
The imagery in the video includes people entering the theme park dressed in 1950's fashion, an era of great optimism for America. As they enter the park, they're all taking selfies, eating giant sticks of candy floss and crowding round an advert for "the greatest ride in the universe". The video, released only a few weeks ago, has already had over 20 million hits on Youtube and Katy performed the song at the recent Brit awards.
But what is Katy P singing about here? Is it about modern life with its media-driven celebrity culture, a culture that is ultimately enslaving and leads to a loss of any sense of identity or purpose? Is it the death of the American Dream? In the video people queue up to go on a ride, which is in fact a hamster wheel, summing up the futility of it all. Is this a picture of life without God, a few exciting rides and a bit of fun, but ultimately futile?
The lyrics ask a lot of questions. For example:
'Are we crazy?
Living our lives through a lens'
'Aren't you lonely
Up there in utopia
Where nothing will ever be enough?'
'Are we tone deaf?
Keep sweeping it under the mat
Thought we can do better than that
I hope we can'
The book of Ecclesiastes in the Old Testament talks about the endless cycle of life: there is a rhythm to life that we dance to – 'a time to be born a time to die,' etc. but the cycle just keeps on going and ultimately it is futile without God in the picture. We think we are in control – but the reality is we cannot manage time – we are caught within its tyranny, the 'hamster wheel of life'. What is wisdom? To recognise that God is in charge, to put the sovereign God in the centre of the picture instead of us.
As Warren Wiersbe says in his summary of the book of Ecclesiastes "When viewed apart from God ('under the sun') life is indeed vanity (futility); but when you live for Christ, life is never 'in vain'."
People today seem excited and fulfilled but underneath there is so much pain and disillusionment. As Mark Ventham said on Sunday morning, "As we live this way, we are actually enslaved to Satan and his lies." "Sins begin like cobwebs, but become iron clamps." (J.C.Ryle). We know that the only one who can deliver from those clamps of sin is one who is stronger than 'the strong man' in Mark 5 – ultimately Jesus.
So well done to Katy Perry for so eloquently pointing out the futility of life without God. She calls her new style 'purposeful pop'. Could a Christian band take up the challenge and produce some 'purposeful pop' articulating an answer to the questions raised in 'Chained to the rhythm'?  Any takers?
By Stephen Nicholls